Posted in
General
on August 8th, 2010 by mish
As the name would suggest Qualicum Beach has good beaches! (click on the image for full size picture)
The three main ones are Rathtrevor, Parksville and Qualicum Beach and over the last couple months we have spent time at all of them.  What do we at the beach?  Well, being that this is the east side of the island – not too much surfing. But playing in the sand, flying kites and paddle boarding have all rated quite highly…the paddle boarding in particular has been popular with all ages!
And yes, yes, yes – we never leave home without applying our 60SPF sun screen and hats! Aside from the beach we have also indulged in developing a new hobby (like Michele really needs another one..Ha!) Golf!  There are no fewer than five 18 hole golf courses with 10 minutes of our house here.  The closest one is the Qualicum Beach Memorial Golf Club, where we took lessons in June and have been attempting to master 9 holes in the evenings throughout July.  Michele's scores have ranged 75-86 for the 9, while Imbaw's have been in the 65-72 range.  Turns out we both like it a lot…and the scenery from Memorial doesn't hurt either!
Together we have also been hiking!  Englishman River Falls, Little Qualicum Falls, Cathedral Grove and Notch Hill are 4 separate but equally interesting trails we have conquered, all with 20 minutes driving of the house.  On our last hike at Qualicum Falls Nathaniel actually hiked the whole loop himself on foot…not bad for 19 months!
OK what else…a little local travel has also ensued…Victoria, where we saw Bucchart Gardens, the rocky coast, a bit of the night life and even the BC cancer agency.
Abbotsford where we visited with family, some of whom are best photographed from a distance…
And Finally, Comox where we saw Kris Valka with kids Ella, Sadie and Jack as well as celebrated a family birthday party (63rd) in style, with good scenery, good food and even a round of Bocce!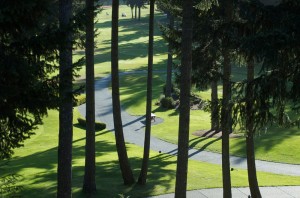 Ah, Supernatural British Columbia!!  Whatever that means… 🙂