Posted in
General
on October 31st, 2013 by mish
Quite a few asked to see some pics from 'The Big Night'.
Pumpkin suit was hand sewn by Mom under strick directive of Nat.  And while it was a favorite at parties and school, Nat opted to be a storm trouper for trick or treating.  Thomas made a super 'Super Mario'. Seen here before trick or treating with good friend Zoe (Pyramid).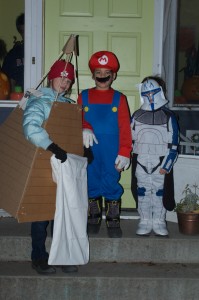 Uncle Matt, or should I say the big bad pig, showed up too, but was unsuccesful in scaring the small children.  And that's all she wrote.